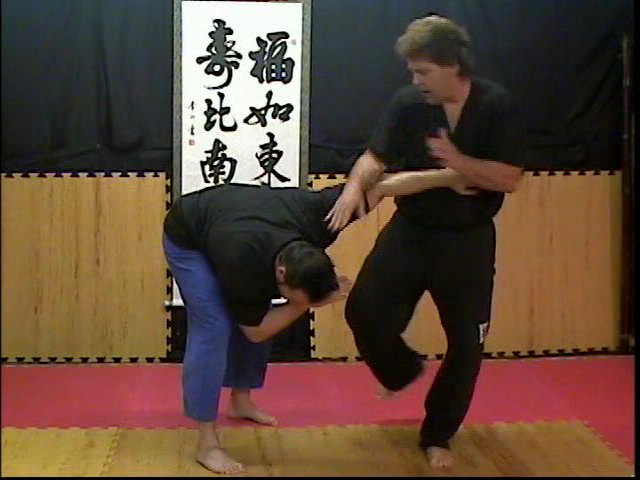 Ai - union, harmony
Ki - universal energy, spirit
Aiki - harmonizing of
universal energy
Ryu - method or way
AIKI RYU TESTING:
The Combat Aiki Ryu
Grading is done on
one video test tape.
Only $99.00 for Black
Belt test !
Simply demonstrate
all techniques from
DVD's 2,3,4 & 5
and submit for your
grading. This only
consists of 37 base
techniques to be
tested on, but the
possibilites of com-
binations from these
base techniques are
endless ...
Combat Aiki Ryu -
A combative method
of universal energy,
a union of harmony
and destruction of
the enemy.
Student Comments:
I recently received the Combat Aiki Ryu system and I just finished the first review of the DVD's. I just want to say that I was very impressed. It is clearly obvious that you and Mr. Rowland are gifted martial artists and that you both have given this system a considerable amount of thought as to what are realistic solutions to real world situations. I personally feel that the result of your efforts has been the development of a system that provides plausible answers to situations that the average American is most likely to face.
I especially like 2 things that is continually stressed throughout the course: 1) The first two moves are the most important; and 2) Closet Target - Closest Weapon. Plus, the quality of the DVD's were excellent and you and Mr. Rowland are great instructors. I very much liked the fact that you did not rush through any of the techniques, you took your time and showed them over and over again before moving onto the next one.
J. Counts
Just received the Combat Aiki Ryu today. My partner and I absolutely love it. We couldn't stop working the techniques, went for 3 straight hours and learned the basics for DVD one. Being a JKD practitioner and grappler myself, as well as my training partner, we really enjoyed the simplicity and endless possibilities the system offers. We just wanted to commend your guys on an excellent program. I can't think of a better system to incorportate into our training and want to share it with others once we reach the black belt level. Great job !
W.Jackson
D.Goodman